WWE 'Friday Night SmackDown' Results: Braun Strowman and Bray Wyatt Meet Before 'Money in the Bank' Showdown
The latest episode of Friday Night SmackDown is the last show before the Money in the Bank pay-per-view, and the WWE will continue to build their matches for Sunday's show.
Braun Strowman, the WWE Universal Champion, will go face-to-face with Bray Wyatt. What will Wyatt have to say to his former disciple, and will Strowman be swayed by it?
In the women's division, Mandy Rose will go one-on-one with Sonya Deville. The former tag team partners have had a lot of bad blood in recent weeks, but Rose looks to take out her frustrations on Sonya tonight. After Deville cost Mandy a chance in the Money in the Bank ladder match, Rose will want to get even.
SmackDown Women's Champion, Bayley will team up with Sasha Banks to take on Lacey Evans and the champ's opponent for Sunday, Tamina. Will Banks and Bayley get on the same page and dispatch the two women who have been thorns in their side? Or will the dissension between the best friends continue?
Former champion, Jeff Hardy, will return to Friday Night SmackDown tonight. It took months for Hardy to return from his knee injury and he'll speak tonight, but what's next for Jeff? And will Sheamus make an unannounced appearance to challenge him?
Daniel Bryan and King Corbin will meet in the men's Money in the Bank ladder match this Sunday, but first they'll have a six-man tag match for that important momentum. King Corbin will team with Cesaro and Shinsuke Nakamura, while Bryan will team with Drew Gulak and a mystery partner. Who will join Gulak and Bryan? And will it affect either Bryan or Corbin before their huge match at Money in the Bank?
Here's everything that happened on the May 8 episode of Friday Night SmackDown.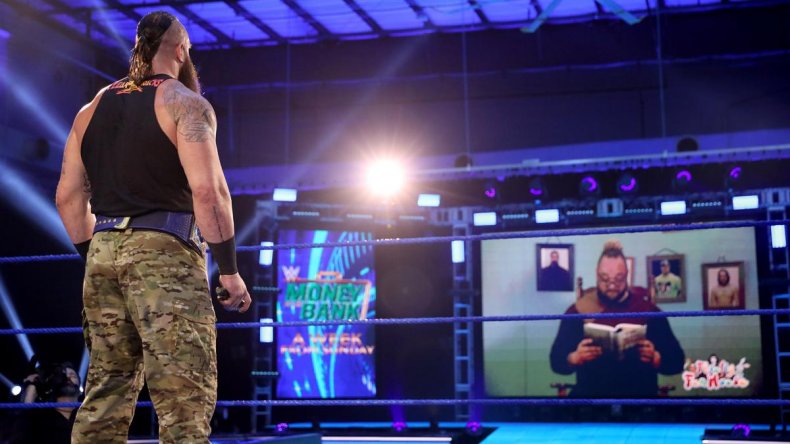 WWE FRIDAY NIGHT SMACKDOWN RESULTS
Backstage
Episode starts with Mandy Rose getting ready for her match with Sonya Deville. Otis comes in and asks how he can help. She tells him to focus on Money in the Bank on Sunday and she'll deal with this.
Sonya Deville is doing the same when Dolph Ziggler comes in and asks if she's ready. Sonya says she's been ready for five years. Ziggler asks for her to go easy on Mandy's face, but Sonya says she can't promise that.
Mandy Rose vs Sonya Deville
Sonya Deville wins via pinfall after reversing Mandy's knee strikes into a roll up and grabs the tights.
New Day and Lucha House Party vs Forgotten Sons and Miz and Morrison
Miz pins Lince Dorado after a Skull-Crushing Finale
The finish was set up when Lince avoided Morrison's Starship Pain and Miz got a blind tag. Lince hits Morrison with a Poison-rana, leading to Miz coming from behind and hitting his finisher
King Corbin Interview
Backstage, Corbin runs down Daniel Bryan and Drew Gulak before their match later tonight. He then runs down the other men in the Money in the Bank ladder match especially Otis who he makes fun of his weight and calls him a loser like his
Jeff Hardy Interview
He says he's back despite being in the lowest of lows.
Backstage we see Sheamus watching this interview and says no one cares.
Jeff thanks the WWE Universe for helping out and asks them to help him in what could be his last run in the company. He then says that he's surprised that Sheamus hasn't interrupted him yet and calls him out.
Sheamus comes out and says that this is the saddest thing he's ever since. He says no one cares about Jeff Hardy, and he's the only one who will say it to Hardy's face. He calls Jeff a disgrace, before Hardy tells him to come at him.
Sheamus tries, but Jeff fights him off and ends the segment on top.
Braun Strowman Promo
Braun says that he was brought in as part of the Wyatt family, but Bray didn't create him. Strowman says that Bray was threatened by him and if he has something to say, say it to his face
Bray Wyatt comes to the ring and says it's a shame that it has to come to this. He just wants Strowman to apologize.
Strowman says that Bray doesn't know how he thinks or what he wants and he needs to stop thinking that he does. Bray says that a creator always knows his creation and he'll give Strowman a peek at what's to come on Sunday. He pulls out the black sheep mask and asks Braun to take it and come home.
The puppets of the Firefly Fun House all ask Braun to come home.
Strowman tells Bray that he is home and has the Universal Championship, and he'll beat him on Sunday before waving bye. As Braun walks up the ramp, Bray apologizes to Strowman.
Bayley and Sasha banks vs Lacey Evans and Tamina
Tamina pins Bayley after a Superkick then a Samoan Drop
Carmella and Dana Brooke Interview
They both talk about being excited to be in the women's MITB ladder match and while they are friends, they'll both do what's necessary to win. Carmella says winning the match once before gives her an advantage and she will show everyone why "Mella is Money."
King Corbin and Cesaro and Shinsuke Nakamura vs Daniel Bryan, Drew Gulak and Otis
Corbin pins Gulak after a Deep Six
After the match, Shinsuke and Cesaro hold Gulak down while Corbin tries to hit him with the scepter again. Daniel Bryan comes in for the save causing a massive brawl.
Corbin is left by himself while the others fight to the back when he grabs a ladder to grab the briefcase but Bryan stops him. After Corbin throws him out, Otis comes and throws Corbin out and tries to climb the ladder but the bottom rungs break. Corbin comes back again and eventually gets the briefcase as the show ends.
WWE 'Friday Night SmackDown' Results: Braun Strowman and Bray Wyatt Meet Before 'Money in the Bank' Showdown | Sports